This event was available from September 16-18, 2016
Rewards
Earn 5-heart ratings on dates to get event points!
Female
Male
Item 1
Item 2
Item 3
Item 4
Item 5
Item 6
25
75
150
250
375
625
Giftboxes
Each item you own increases the number of event points rewarded from getting a 5-heart rating on dates in this event! Opening a box costs

80.
Rewards
Female
Male
Item 1
Item 2
Item 3
Item 4
1
5
15
50
Special Limited Time Offer
For a limited time, get ready for Fall with 3 Nour Hammour Jackets + 400 K-GEMS + 2000 CASH! (You buy this with REAL money!) Females only!
Cost: $9.99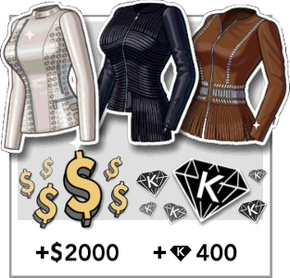 Ad blocker interference detected!
Wikia is a free-to-use site that makes money from advertising. We have a modified experience for viewers using ad blockers

Wikia is not accessible if you've made further modifications. Remove the custom ad blocker rule(s) and the page will load as expected.