App Store & Google Play Description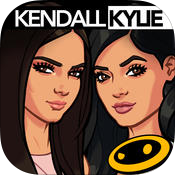 JOIN Kendall & Kylie JENNER as the up-and-coming star of a big new adventure... choose your own path - the story is yours!
BE YOURSELF, EXPRESS YOURSELF! Create your own character from hundreds of the latest styles, and share customized pics of your digital self.
YOUR FOLLOWERS ARE WAITING! Start a life in fashion, media, and more... make your mark and increase your online following.
CONNECT WITH FRIENDS on your feed, like, share, and help each other succeed.
Get the game!
The Kendall and Kylie game was released on February 16, 2016.
Download from App Store for iPhone and iPad. Requires iOS +7.0
Download from Google Play for Android phones. Requires Android +3.0
Resources
Kendall and Kylie Official Forums
Ad blocker interference detected!
Wikia is a free-to-use site that makes money from advertising. We have a modified experience for viewers using ad blockers

Wikia is not accessible if you've made further modifications. Remove the custom ad blocker rule(s) and the page will load as expected.