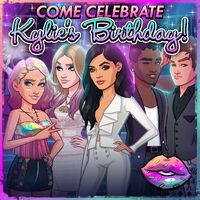 This event was available August 10-14, 2016

Kylie Jenner is celebrating her 19th birthday (August 10) with us! She's giving us the chance to win great clothing and take part in some special event goals.
Event Goals
Rewards
Earn 5-star ratings on professional gigs to get event points!
Female
Male
Item 1
Item 2
Item 3
Item 4
Item 5
Item 6
15
35
70
110
170
275
Giftboxes
Each item you own increases the number of event points rewarded from getting a 5-star rating on gigs in this event! Opening a box costs

80.
Female
Male
Item 1
Item 2
Item 3
Item 4
1
5
15
50
Special limited time offer
Limited time offer: Get this exclusive Kylie look + 500 K-Gems! (You buy this with REAL money.) Females only!
Cost: $9.99
Ad blocker interference detected!
Wikia is a free-to-use site that makes money from advertising. We have a modified experience for viewers using ad blockers

Wikia is not accessible if you've made further modifications. Remove the custom ad blocker rule(s) and the page will load as expected.